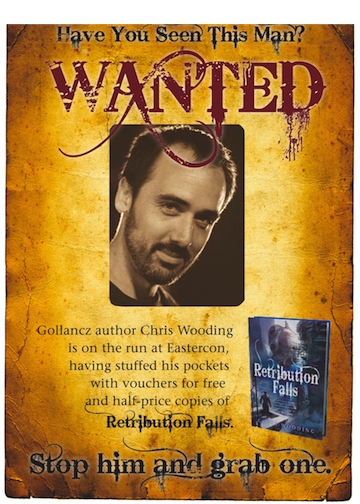 Says it all, really! I'll be lurking at Eastercon on Saturday & Sunday.
I'm trucking along with The Iron Jackal. Five chapters done out of a predicted forty or so. Ah, it's so comforting getting back to the world of the Ketty Jay. Like shucking on an old overcoat and finding a dog-end and half a pack of Polos in the pockets.
In other news, I have a new movie project on the go. It's one of those behind-the-scenes things I was darkly hinting about in previous posts, but since the deal is all but done now, there's no need for secrecy any more. Brilliant Films – the guys who are doing Malice – have snapped up a movie idea of mine, tentatively titled All Fall Down. They're signing me up to do a first draft and we'll see where it goes from there. It's a thriller/suspense movie, not fantasy or sf at all, which is kind of a welcome break for me; but I'm keeping the story close to my chest, so that's all I'm telling you for now 😉
Apologies to everyone I haven't replied to in the comments sections; I'll be getting to you soon, honest.