Now that is one sexy cover. If only I had a larger version of it. Allow me to quote the starred review it got in Booklist (spoilers ahoy – if you were gonna buy it anyway, don't read):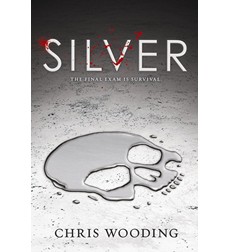 "A couple of boys on a biology field trip uncover a silver creature with chitin markings eerily like a computer chip. But it is only the first of many horrible creatures whose scratches turn humans into silver insects—or the Infected. It's a biological weapon experiment gone awry, a horrifying precursor to an evil world bent on destroying itself. The challenge for a lucky (?) few Mortingham Boarding Academy students: how to survive and perhaps, more importantly, what happens if they do? Wooding has morphed a traditional English boarding school story—bullies, evil headmaster, well-intentioned teacher, and boy/girl drama—into a horror/survival story that would make William Golding and Gary Paulsen envious. The ugly, morphing Infected are graphic, both awe-inspiring and terrifying, as they devour their comrades to become larger, more intelligent, and more vicious. The tension is palpable as a small group of teens gradually out-thinks its few remaining adult leaders, thus leading the scant remaining survivors in a quest to escape. Is "sometimes being nice being stupid" or can goodness actually prevail? Carve out enough time to read Silver in a single sitting. You'll need it."
TL;DR? "It's totes awesome."
Available here.